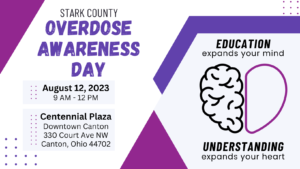 Over
dose Awareness Day Newsletter Article – Osnaburg Township
^^^PRESS ENTER ON ABOVE LINK^^^^^^
Stark County Overdose Awareness Day is August 12
In 2022, approximately 156 Stark County residents were among the 4,984-plus Ohioans who lost their lives to overdose.
That's why the Stark Overdose Awareness Committee will bring people from all backgrounds together to unite under a common cause: Calling attention to the ongoing overdose crisis and remembering those affected without shame or stigma.
The committee will host an Overdose Awareness Day event on Saturday, August 12 from 9 a.m.-12 p.m. at Centennial Plaza in downtown Canton. Osnaburg Township residents are invited to attend.
Activities and resources will be available for youth, older adults, Veterans and women. Some of the activities being planned for the morning include:
Drum therapy from Warrior Beat, a non-profit charity that helps military veterans who suffer from PTSD, anxiety, depression, thoughts of self-harm and suicide, substance abuse and other mental and physical challenges
Yoga for 12 Step Recovery, which combines the practical tools of 12 step programs and cognitive addiction methodologies with the ancient art and science of yoga, neuroscience and trauma healing
Free haircuts
Health services from the Stark County Health Department's mobile integrated care unit "Driving Towards A Healthy Community"
Naloxone distribution provided by Canton City Public Health
Linkage to care provided by AVO Behavioral Health and Recovery Center
The Stark Overdose Awareness Committee is made up of local and regional agencies including AVO Behavioral Health and Recovery, Canton City Public Health, HEALing Communities Study, Let's Get Healthy Cleveland, Massillon City Health Department, Metamor5sis, Millennium Health, Stark NAACP, OhioCAN (Change Addiction Now), Stark County Health Department, Stark County Mental Health & Addiction Recovery, and Veterans Services Commission.
More information can be found on the Stark Overdose Awareness Committee's Facebook page.